( read )
An Interview with Nimrod Borenstein
31 August, 2018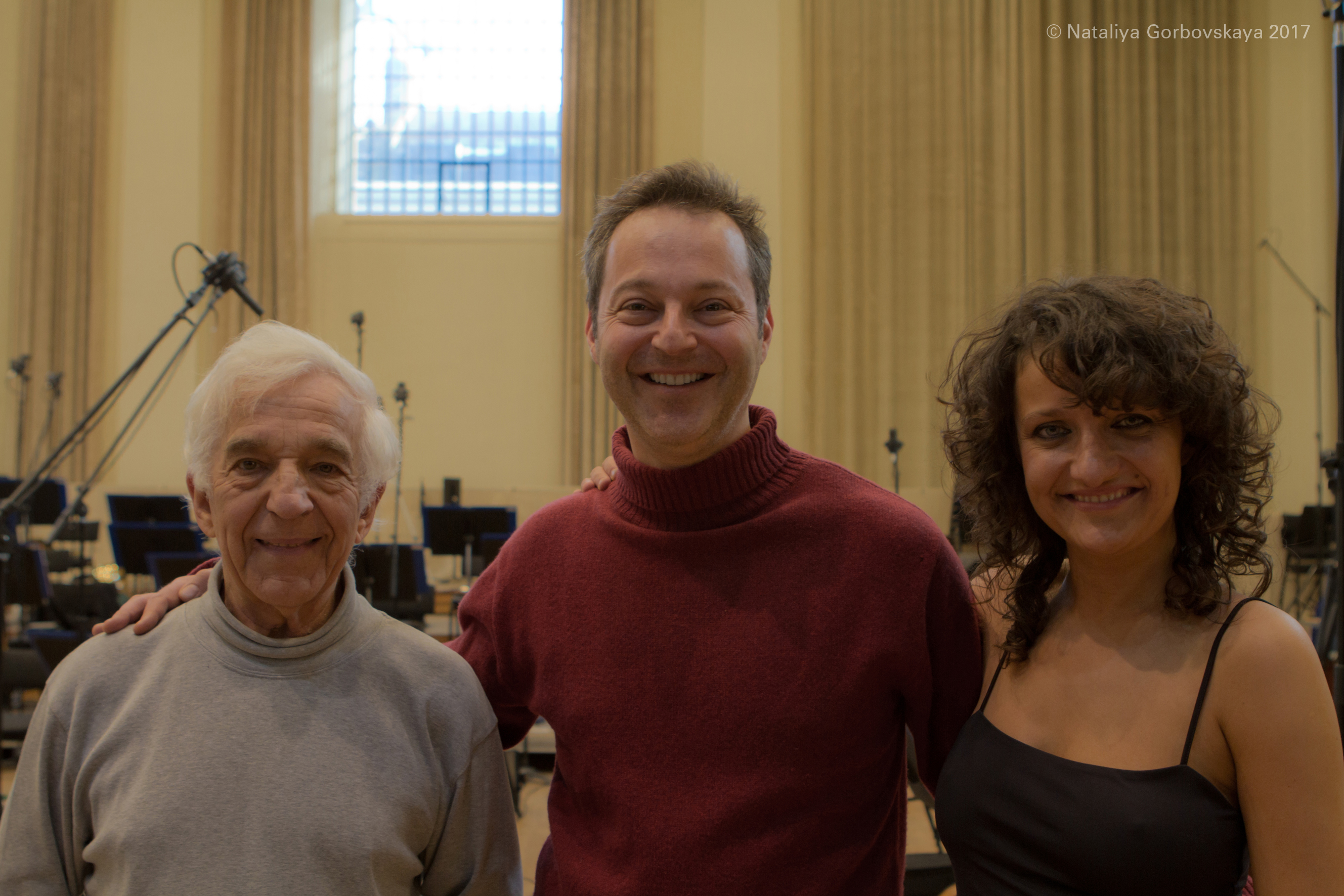 Nimrod Borenstein's vivacious personality is infused in his music. The British-French-Israeli composer has been collaborating with eminent conductor Vladimir Ashkenazy over the past decade, this year finally making a recording together on Chandos. The Big Bang and Creation of the Universe, Op.52, Concerto for Violin and Orchestra, Op.60 and If You Will It, It Is No Dream, Op.58 are featured on the album which comes out in September. Primephonic's editor Rachel Deloughry had the chance to catch up with Borenstein to discuss this exciting new release, with its trailers and all! Aside from Chandos, Vladimir Ashkenazy and the Oxford Philharmonic Orchestra, they discussed many other topics, from Brexit to finding perfection to the best hot chocolate in Paris.

Speaking to Nimrod Borenstein, I got a sense of the intuition, playfulness and meticulousness that is reflected in his compositions. We met in the bustling Concertgebouw café in Amsterdam on a relaxed summer afternoon. His first piece of advice to me was: "If you ever go to Paris, make sure you go to Le Deux Magots, a café where Sartre used to go, and order the hot chocolate. The waiters are dressed better than you, and they totally ignore you. But it's the best hot chocolate in Paris." From there, we got stuck right in!

On origins and feeling at home

"I'm British. I've been almost 30 years in Britain. But now, with Brexit, I think I will have to renew my French passport. I didn't do that for many years because I thought, what's the point in having two European passports? I would never have thought such a thing would happen. It was a country that I always found so tolerant, so the fact that something like Brexit would happen is totally bizarre. If you ask me where home is, it's London. But I don't know if I feel more in touch with being British than my other two nationalities: you can feel that 3 countries are part of you without having to negate one. Regarding the French language, it's the only language I speak without an accent. With English, maybe I was too late! I arrived in England aged 17 and I didn't pick up the English accent. Your language is part of your identity in many ways, so when I go to France, for a change people don't ask me where I am from. I've been in England for most of my life now, and I like the freedom and the music scene in London. I've been to Berlin many times too, which has some of the great characteristics that London has, but it's very small. Then there's Israel: it's my childhood place, my holiday place. I went there every summer to visit my grandmother. So, I'm not entirely Israeli because I don't live there and I haven't done the military service there. It's a very fair system – if you don't want to take the benefits of the country, like living there, you don't have to do the military service. I didn't go through that so I don't feel fully part of it even if I feel that it is my country.

In Britain, they are so welcoming. I have over 100 performances of my music every year worldwide. It's like any type of work like that, you need to stay in touch with people who are playing your music. If you live in a smaller place, you have to travel to meet people, but if you live in London, you wait for people to come to you! People with a big career in music, no matter where they're from will most likely come at least once a year to London. So, it would be the same in New York and Amsterdam."

On Vladimir Ashkenazy

"I had all his CDs from when I was little, and I greatly admired him. It all started 10 years ago when I saw him on television talking about Shostakovich and the fact that he knew him, and he saw that composing was like a curse. I felt somehow that it was a bit like how I feel about composing. It's not just that you like to compose, it's that composing is something you couldn't do without. That's the point about being a great artist in general, in any artistic discipline - it's not that you just decide to do it. Art is difficult as a career and it's difficult even if you succeed. It's not something you should ever do unless you couldn't bear to live without it. In this field, it's not for yourself, there's no ego. It's like love. Real love is not about the ego. You don't do it for yourself. You want to create some beauty, for the sake of beauty. You are doing it your own way, but that is not the main reason behind it.



Vladimir Ashkenazy



Anyway, I heard him talking about that and I felt something in common with him and got the feeling he would like my music. He plays very little new music, but somehow, I thought maybe he'd like my music. I wrote to his agent to organise a meeting with him. I got a reply within 2 days, saying "Mr Ashkenazy is very very busy but he can give you three minutes". I thought, wow nice, though he must be very busy and not that young anymore - 70 years old - giving a lot of concerts and understandably he must have less free time than ever. By that time, I had already held a music festival in London, of which I was director. I used to receive 200 CDs of musicians who wanted to take part and I thought, ok if it's that difficult for me to reply to everybody, even to say no, I can just imagine for people like Ashkenazy just how much time that takes.

So, I went to meet him! He listened to the first piece. I prepared two minutes of music for him to listen to, and he said, "that's it?" so I asked him, would he like to listen to some more and he said yes. So we spent almost three hours together, until he realised he was late for meeting up with his wife at the hotel. It was a week after I had passed my driving test and he asked, "can you take me to my hotel?" and I said "are you sure? I just got my licence!" I said to myself, oh no, I don't want to kill Ashkenazy. And that's how it started. After that he told me he would write any letter of recommendation for me. It was bizarre.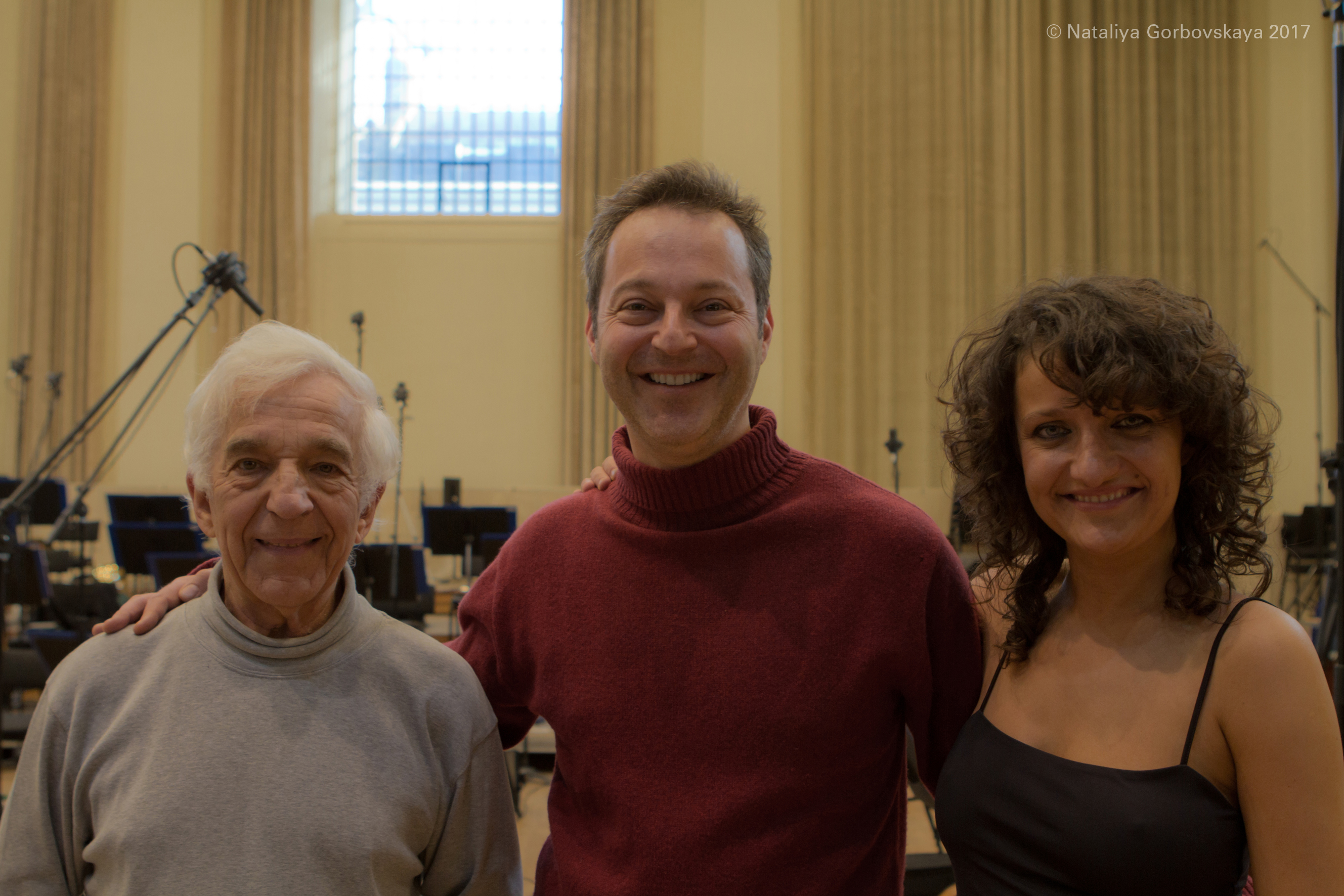 Ashkenazy, Borenstein and the violinist Irmina Trynkos
Image credit: Nataliya Gorbovskaya 2017



Ashkenazy became the patron of my festival and he conducted the Philharmonia Orchestra performing my music. It's been going on like that for a few years now. He said a couple of times that he'd like to record an album of my music. When you are moving on in your career, a lot of people are saying things like that. He said it once and I though he was just being nice. He is a nice person. And then he said it another time and I still let it pass. Then, I met him again and he asked me a third time "so when are we doing the album?" So that was my green light. And that was it.

I like him as a person. He is modest in that he knows what he is worth, but he treats everybody the same. For example he has been staying in the same hotel in London for 30 years now and he clearly has supporters in the hotel. When he goes to stay there he always asks the people working there how they are, how are their families, how is their wife etc. My wife and I know a lot of major conductors and we agree that there are not many who are so modest as Ashkenazy. It doesn't make you any better as a musician, to be so nice, but it's nice to be nice, you know?"

On the Chandos recording with Ashkenazy and the Oxford Philharmonic Orchestra

"It was interesting to do this recording. Now, unlike a concert, it's there forever. There are so many things we wonder about from say the 19th century. Now with recordings, we have evidence of what the composer intended and how the conductor interpreted it.

I'm also quite excited with my relationship with Chandos. I really like how it's going so far and how we collaborate."

On public speaking

"I have done lots of lectures. I like to explain my music and I often invite a musician to join me in the lecture to illustrate the musical examples of what I talk about. For a recent festival in France, they invited me to stay for a week and the rehearsals were open to the public. On the first day, there were 70 people listening and I interacted with them by talking about the music we were playing. The 2nd day there were 200 people because they had told their friends about it. The next day there were 400 people, and then when the concert came around, it was totally sold out! It's the real thing – it really proves that this connection with audiences is important. It was also good for the players. It's true that there's usually a bit of stress, so that you can give your best. But as a musician myself I know that the first five minutes of a performance are often not the best because you are so tense and not giving your optimum. So, this interaction with the public helps you to lose these bad nerves and then the concert can be amazing. It's good artistically as the audience knows more about the works, and the audience knows more about you. It's interesting. I'm doing lots of things like that. We do it with the soloist who recorded on the Chandos album, Irmina Trynkos. She can play some solo parts while I talk about it. You know how they often do those book readings with book sales, well, we are basically doing that, but with album sales.
"Finding perfection. You should find a way to write music in the only way that it could possibly go. Like when a writer writes about a character that never gets out of the writer's control. Psychologically, what should happen is not easy to define, but when it's right, it's right".




Image credit: Synced Films



I think that if you are a performer it is easy to interact with audiences, but on the other hand, musicians are not actors. They can be very comfortable playing, but not talking. Speaking in public is something else.

I did another talk at the London School of Economics. There they also teach philosophy and the philosophy department asked me to come and do a lecture about music and the absolute. I heard a well-known British philosopher, Professor Adrian Moore, talk on the BBC about the infinite, from Aristotle to today, and I thought it was fun, so I asked him if I could give the lecture with him. I had the feeling he would like it, so I contacted him asking if he'd like to give this lecture together. So, we did, and it was so much fun. We made a podcast of it, which got 30,000 downloads! I took a 5-minute excerpt of my music for piano, and I talk about it in terms of the absolute. For example, in the film, Amadeus, Mozart receives a criticism that there are "too many notes" but he insists his composition has the exact amount of notes, no more, no less. Finding perfection. You should find a way to write music in the only way that it could possibly go. Like when a writer writes about a character that never gets out of the writer's control. Psychologically, what should happen is not easy to define, but when it's right, it's right. And so that's what we talked about."

On composition methods

"I started to compose when I was six years old and I had my first work for orchestra performed when I was 8. I used to play a game when I was six or seven involving piling up as many melodies as possible on top of each other. It was a mental arithemtic game. I still do that: my music is made of lots of different things. It's been almost 40 years since I started composing! But a white page is a white page - when there's nothing there, there's nothing there. The first thing is, I need to know the length of the piece and what it's for. I try to imagine the structure of it. I do it chronologically. I know not everybody works like that, but that's the order I work in. My music is well structured, but when you listen you might not necessarily imagine that by what you hear. The first half-minute is when you have no power to know. If you don't have a great beginning, what you do next is not going to be amazing."
"Our subconscious is so rich, much richer than our conscious mind. There are so many things we aren't aware of. I try to arrange the piece the only way it could possibly have happened."

On intuition

"Our subconscious is so rich, much richer than our conscious mind. There are so many things we aren't aware of. I try to arrange the piece the only way it could possibly have happened. My intellect enters the making of the piece the moment I'm not happy. For example, when I was composing "If you will it, it is no dream". It was a commission for Ashkenazy and the Philharmonia and appears on the Chandos album. It's 10 minutes long. I started it and I was very pleased with the first 1 minute 40 seconds. I wrote 8 minutes and it wasn't quite right. Then I started to work every day, and still after 6 weeks I didn't understand what was wrong. I thought to myself from here onwards, it's not right. I don't know why it's not right. Maybe it's the rhythm, maybe there are wrong notes. I decided I was going to listen in my head and I was looking for exactly where it was not right. Most of all I didn't want it to be boring. As I listened to it, the 1st minute and 40 seconds were great but then I noticed a moment just after, and I couldn't find anything wrong. Then suddenly there was light. Nothing was wrong with it, it's just that that section doesn't belong in that particular piece!

Music is about contrast. And it was actually too similar to the rest of it. So I removed everything from 1.40. I had to write the other 7 or 8 minutes all over again. All in the bin, bye bye. So that's an example of the creative process and I remember that example very well because it was painful. The problem with composing is inspiration! You don't have to create any more mystery than there is – the mystery is there anyway."




Nimrod Borenstein in conversation with Rachel Deloughry
Header image: Synced Films